Just Party I One World Soliparty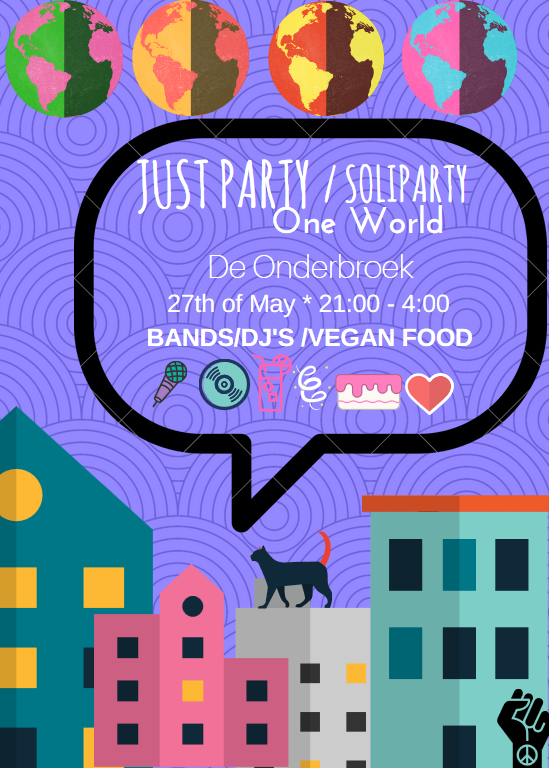 Datum/Tijd
Date(s) - za 27 mei - zo 28 mei
19:00 - 04:30
Locatie
De Onderbroek
Categorieën
• justParty people! Bring your vibes and come join us for a great evening and night! •
19:00 // Vegan dinner at De Klinker Nijmegen for €7,50 (3-course) + donations
21:00 // Bands – Papas Kopen Tandenborstels // Mandeleo
00:00 // DJ's – Hermelin // Swingmar & Blau
Nightly love // Vegan cakes & snacks
Donations ~
Will go to a family in need; A beautiful family who is structurally excluded by our system, yet as much part of our society as we all are.
Will go to Lesvos through our dear friends, who are volunteering and working on a documentary on the situation of refugees in Lesvos, see here for more info: https://www.startnext.com/en/engage-border-postcards/
justPeople ~
As an informal collective, we counter the fragmentation of people in general, and the segregation and racialization of refugees and migrants in particular. We stand for solidarity and mutual aid, intercultural dialogue and respect.
Read our latest statement and response to the recent Dutch elections here:
https://justpeople.nl/2017/04/28/big-movements-begin-with-small-actions-our-statement-after-the-elections/
FB event: https://www.facebook.com/events/807349512775427/